Membrane Systems are a complete range of systems used together to solve Damp problems in construction projects.
They are particularly effective in dealing with aggressive ground water conditions, barn or basement conversions, and even as a barrier against Radon Gas.
Types of Membrane Systems
Certain Membrane Systems are better equipped to solve issues than others.
Firstly there is the Cavity Drain Plastic Membrane System. It is fixed to the floor and the walls in order to create drainage paths for moisture. Constructed from High Density Polyethylene (HDPE) and Polypropylene (PP), these membranes are water and vapour resistant. Any water present is collected in a channel at the base of the construction and then drained out of the building. They can be used in both sealed and ventilated installations, and form a permanent seal between the building structure and internal fixtures.
Meanwhile, a Sealed Cavity Drain System is recommended where active or running ground water is present. Depending on the desired drainage flow rate, the membrane may be installed to the underside of a vaulted ceiling or to the underside of a slab for a complete seal. All fixings, penetrations or joints are further sealed, and a pumped drainage system may be fitted to prevent the formation of damp.
Lastly, a Ventilated Cavity Drain System can be used where no active water is expected. This type of system can be ventilated at the membrane or through the use of an external vent. It is more suited to restoration projects; as it keeps the fabric of the structure unchanged whilst also keeping internal surfaces dry and damp free. Depending on the project requirements, the system can be dry-lined or plaster finished.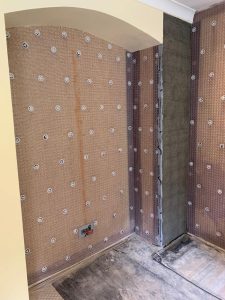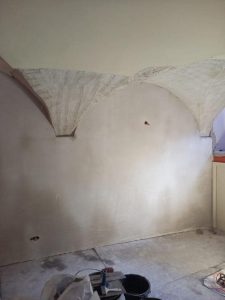 We have installed Membrane Systems in every county in Ireland.
Membrane Installation Gallery
Please take a look at our gallery of previous Membrane Installations. Included are new builds and the damp proofing of existing constructions.
For more information on Membrane Systems or an effective Damp Proof Course, please Contact Us today!
Phone: +353 42 974 1495
Mobile: +353 87 243 2564
Email: info@mcguinness.ie